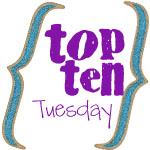 I used to work at a bridal shoe salon. That's right I said SHOE salon. We had 100′s of styles of wedding shoes. Isn't that fun? We also sold accessories like flower girl baskets, gloves and earrings. I guess I got bit by the wedding bug there because I ADORE wedding stuff. I could look through wedding sites and magazines for hours. I love traditional weddings. But what I really like is the twist on the old. I like weddings that showcase the couple and their unique-ness. So, here are a few of my
Top Ten Favorite Wedding Ideas and Traditions (or things that SHOULD be traditions)!
1. Bake Your Own Wedding Cake. This is the idea that inspired my Top Ten. You really need to read her whole post because you can hear the meaning behind it. But basically she baked her own wedding cake. Then, she and her husband served it to all of their guests. So, it doubled as the receiving line. Isn't that great?
2. Serve Communion. Les and I had communion at our wedding. It was an act to show that we were honoring Jesus in our marriage. When a pastor friend of mine got married, instead of just he and his bride receiving communion, they served it to all the guests. They simply held the bread and the wine at the front of the church and everyone walked up to the front. It was moving and intimate!
3. Communion Chalice
At the aforementioned communion, the pastor encouraged the couple to take communion every year on their anniversary. This would be a time to renew their vows to each other and to God. But the fun twist is that the pastor gave the couple a beautiful goblet engraved with their names and wedding date. So, each year they can have communion with the same glass. This is my new gift for every family member that gets married. (Be forewarned, young-ish family members!)
4. Handkerchief
I always (always!) cry at weddings. When I worked at the shoe salon, we sold several lace handkerchiefs.  One particular handkerchief came with directions to sew into a baby bonnet for the bride's first child. As a mom, I can now imagine how sweet this would be! An heirloom to pass to my daughter—something from my wedding day and her newborn days…then she could use it on her wedding day. *sniff*
5. Creative "Guestbooks"
There are too many great ideas…you know what? I think I'm going to do a Top Ten of this in a few weeks. But here's my favorite right now…
6. Passing On…
I like anything you pass on to another bride. My grandmother gave me a bracelet (when I was quite young) that belonged to her. It had blue stones in it. (It may have been something she got at a garage sale. But as she was married to a millionaire for several years, I like to think it was worth something.) Anyway, I wore it in my wedding. I gave it to my cousin's bride and I hope she passes it on to someone else in our family one day!
7. Mother's Bouquet
I can't remember where I heard this first but I LOVE IT. Instead of a boring wrist corsage, why not RECREATE the mothers' wedding bouquets for them to carry down the aisle? Imagine their surprise when they are giving away their babies, to have a little glimpse back to their own wedding! How honored they would feel! (How can I suggest this when Lydia gets married without sounding self-serving?)
8. BLOG.
Obviously I am going to say this. But how cool would it be if you documented your entire wedding process? When you sent out your save-the-date cards, you could include the blog address and people could follow your journey! It would be like your own reality-tv show. Only on the web. And not so trashy.
9. Get a Good Photographer
Because these are my wedding pictures…
You can cry with me now. (See all epic failure pictures here.)
It's hard for me to even look at wedding pictures now. Of course, if I could redo it, I'd spend every dime on the photographer. I scoured my new favorite wedding blog, Style Me Pretty and found so many beautiful pictures and photographers. I had to use them all in my post. Please click through and visit their sites. They'll take your breath away!
10. Have Family Wear YOUR Colors.
My brother got married at Christmas-time. They had the family (those not in the wedding party) wear red and green. The family pictures turned out gorgeous! So even if your grandpa didn't wear a tie (uhm, like mine!), then at least your wedding pictures will be color-coordinated.
OK. Are you lovin' every bit of that?! Do you have any great traditions to add? What did you do at your wedding that was a little different or non-traditional? I wanna know!
:: :: ::
Now it's your turn!
1. Write a Top Ten post on your blog.
2. Then copy the PERMALINK to your post in the Mr. Linky below.
3. Please link back to my Top Ten Tuesday post so others can join the fun.
4. Leave some comment love for the rest of the particpants!
Happy Tuesday!