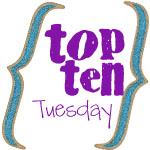 I've been wanting to do this Top Ten for awhile. My bbb Jo-Lynne from Musings of a Housewife has her own Tuesday carnival called What I Learned This Week. I thought it would be fun to link my Top Ten with her What I Learned…and here's the result. But don't get too excited. I didn't learn anything too awesome—I'm not taking juggling classes or learning how to knit. Oh wait, I already learned how to knit. Too bad I never learned STICK-WITH-IT-NESS. Anywhoo…get ready for my TOP TEN THINGS I LEARNED THIS WEEK:
1. Three day weekends should be standard.
2. The casting of Robert Pattinson as Edward Cullen in the Twilight
movie was perfect. Actually better than perfect because I kinda had a crush on Edward in the movie. It took me all four books to even like him.

photo by i heart him
3. The expectations I have as a wife will never equal my husband's actions. It's up to me what to do with that. I can either believe the best or expect the worst. If I choose to believe the best, I'm following 1 Corinthians 13:7 and setting our relationship up for success. (via Andy's sermon on Sunday. Totally worth the time if you have it.)
4. Teething messes up sleeping. At least I hope I've learned that this week. If Asa's short naps and early wake times aren't due to teething, I don't know what I'm going to do!
5. I apparently look and/or act like Kate from Jon & Kate Plus 8. (This does not make me happy.)
6. Getting your house unpacked and clean for your cousins from California to come stay with you for a few days is tiring and overwhelming. But great motivation.
7. Ikea furniture is inexpensive because you have to put it together yourself. And that is not always worth the money you saved. Ahem.

photo by mingaling
8. Becky & Kristen are true friends. They helped me discover #7 above.
9. So You Think You Can Dance on streaming video is not as exciting on TV. But any SYTYCD is better than no SYTYCD.
10. Comment love is king in the blogosphere. OK, so I didn't really learn that this week. But it is always true! So, go check out J0-Lynne's What I Learned This Week and her fun participants! Leave them some comment love!
:: :: ::
OK, your turn! Write a Top Ten post on your own bloggy blog. Then since Mr. Linky is apparently still celebrating his three day weekend, leave your PERMALINK in the comments. Then head off into the blogosphere to leave some comment love for the rest of the Top Ten folks!