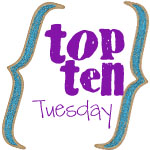 I'm sure you've picked up I'm a little of a bibliophile. Of course, two kids and an addiction to the internet has turned my book lovin' down a little. I used to be the girl who started a new book the minute I closed the first.  I'd always read before bed trying to savor each chapter. Then I started doing the whole open-up-about-three-books-and-read-them-all-at-once thing. But now my modus operandi is to not read very often but when I do, I devour it in one sitting or as close as I can…I'll read while cooking, while sitting in the passengers seat of the car, while folding clothes, while watching TV, etc.  So, here's my top ten list of books that were so good I had to read them in one sitting. (Or thereabouts.)
The book that inspired this list. I read Book One & Two of the Twilight saga a few months ago. And I really enjoyed them. When Becky let me borrow the 3rd and 4th, I was excited but I didn't have that urgency to read them. Anyway, I picked them up this week and have barely come out of Bella-Edwardville to take a breath. I think Breaking Dawn was the best of the four. It's the one where I finally started liking Edward. (I know.) I also loved hearing Jacob's voice.
2. Redeeming Love
Arguably Francine Rivers' best. Yeah, it's historical romance, but I know MEN that loved this book. It's the story of the Bible's Hosea and Gomer set the 1850's gold rush. I can still feel the pain and yes, redemption I read in that novel. Anyway, I read this one when we first moved to Celebration. I didn't have a car and I was stuck at home with nothing to do…except read! *bliss*
3. An Echo in the Darkness
Another by Francine Rivers. This is actually the 2nd in the Mark of the Lion series. I remember borrowing these books from my mom when I was in college. Les and I were married and we lived in a trailer next to a chicken farm. (That has nothing to do with it, just an interesting oh-fact.) Anyway, I was so into the first book I was reading it one morning in the bed while Les was still asleep. When I read the last page, it was such a cliffhanger I screamed, jumped out of bed and ran into the other room to get the 2nd book. I'm pretty sure I read this book faster than any human alive.
I love Anne of Green Gables. My aunt gave me the whole series for my birthday when I was about 10. But I never got into them until I was much older. Anne's House of Dreams tells the story of Anne's first year of marriage to Gilbert. It's such a beautiful sweet book. Especially the sub-plot of Anne's neighbor Leslie. *sniff* It still makes my heart tighten a bit thinking about it.
5. Harry Potter And The Goblet Of Fire
I've actually probably read most of Harry's in a day because of the long wait between books. But I specifically remember reading Goblet of Fire like a speed demon. I read the first two books in this series and enjoyed them thinking they were akin to Roald Dahl's humor. Then when I read the The Prisoner of Azkaban I realized JK Rowling was going somewhere with them and I got hooked! So, when Year Four hit the shelves, I couldn't contain myself. We were actually speaking and performing at a kids' camp that week. I remember sitting in our little room with an air conditioner that barely worked and I hardly took my nose out of Hogwarts!
6. A Thousand Splendid Suns
I never did read Kholed Hosseini's The Kite-Runner. I started it but when I got to the…well, the pivotal scene, I had to stop. It was too much for me. Becky let me borrow this one, too and oh. I know it's sick but I LOVE sad books. When there is heartache and devastation, I could read for hours. *sigh* I still get sad thinking about this book.
7. Felicia Cartwright by Bernard Palmer.
I get my love of reading from my mom. When I was little, I had all the old books she had saved from when she was a kid. Once such series was Felicia Cartwright. I guess they were the Christian version of Nancy Drew. Well, I remember being about 10 years old and grabbing my gymnastics mat (oh yeah, I was a gymnast. ahem.) and setting it on it's side in the corner of my living room to make a secluded reading nook for myself. And I read every single Felicia Cartwright book my mom still had. In one day. He wrote 20, I'm thinkin' I read at least 5 or 6. I have NO memory of the stories. But still, it was fun to read them all in one sitting. I'd love to do that again.
8. The B Book
Oh, wait I'm confused. I read this one 24 times a day. Nevermind…
9. Uncharted
I picked this one up because the cover reminded me of LOST and Survivor. But when I started reading it and the first thing that happened was a…well, I don't want to tell you. But YIKES, once it started I couldn't stop.
10.First Light
OK, I'm not really sure if I read this in one day. But considering I've read all 50 (fifty!) of their books, I'm pretty sure I read at least ONE of them in one sitting. Brock & Bodie Thoene are the most prolific and insightful authors I've ever read.
:: :: :: ::
Do you have a Top Ten to share? I'd love to hear it! Thanks to everyone who participated last week. There were….wait for it….TEN of you! Woo-hoo! I'd love to double that this week. Can we do it?!
All you have to do is write your own Top Ten list on your blog. Leave your permalink  on the Mr. Linky below. Then visit the other Top Ten-ers and spread some comment love! Who knows, you might make a friend or learn something new!
("official" rules and grab-able button here)
:: :: :: ::
 And now for the winner of last week's set of TEN mini cards from SarasSmile—Dolly from The Dolly Mama! And oh, did you read her top ten? It was so sweet–all about her mama! Dolly, I'm emailing you asap!