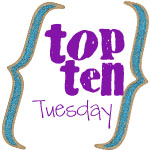 Today's first Top Ten Tuesday list is in honor of my sleepy pirate. Remember how he started sleeping 8 hours like in November? Well, last week he reneged on that deal. He started waking up three times PER NIGHT. I was a zombie. A zombie. A zombie. Seriously. A zombie.
One night I just decided I was going to ignore him if he cried at his normal midnight hour. And he did. And I did. And within minutes he went back to sleep and SLEPT UNTIL THE MORNING. And has been doing that ever since! Isn't that strange?!
So, not sure if these things helped, but here are my…
TOP TEN STEPS FOR GETTING YOUR BABY TO SLEEP
1. Healthy Sleep Habits, Happy Child. Seriously best sleep book ever. Dr. Weissbluth should pay me commission.
2. Earplugs. These are for you, not them.
3. Miracle Blanket. It's called the miracle blanket for a reason.

4. White Noise machine. I am normally not a fan of sounds during sleep. But when your kids rooms are connected by a door and you can literally hear the other one breathing heavy, I like this for covering up some of the noise.I bought this cheesy one
at Target. I keep it on rain, but it's got tropical birds if you like that better.
5. Hyland's Homeopathic Sleeping Helper Pill-Thingies. Have you seen these? When we went on our cruise last year our table-mates gave us some because Lydia didn't sleep. Not sure if it worked but we're going on another cruise in March (!!) and I'm thinking I might drug the pirate with them. Is that weird?
6. Miracle Blanket. Oh, have I mentioned this before?
7.The Moms on Call Book.
You can never have too many get-your-kids-to-sleep ideas.
8. A warm bath and a snuggly towel.
9. A bedtime story. We're doing The Magician's Nephew. It's taken us a few months to get to chapter 12, but I think he likes it.
10. Nyquil. KIDDING.
:: :: :: ::
So, what's your Top Ten today? Top Ten Dishes You Still Need To Wash? Top Ten Oscar Nominated Movies I Didn't See? Top Ten Things You Should Be Doing Instead of Reading My Blog?
I'd love for you to link up with my Top Ten Tuesday! Just post your Top Ten list on your blog. Then come back here and put your PERMALINK in the Mr. Linky. Click around to enjoy the rest of the top tens and make some new friends! (Here's some real guidelines & a button if you'd like.)
And as an incentive (aka method of begging/pleading) I'm offering up a prize! If you play along with my Top Ten this week, you could win a set of TEN mini cards from an adorable little etsy shop, SarahsSmile!  I'll announce the winner NEXT Tuesday.
 Thanks for playing!