1. Kristen (her shop would be called Kdoggy's Krafts)
She is my sisterchick, so I might be a little biased but I think Kristen is one of the most creative people I know! (Do you remember her Christmas gift to me?) Well, look at what she made me at one of my many baby showers.
A bouquet of baby stuff! It's socks, onesies and washcloths all rolled up to look like flowers! Do you love it? I didn't even want to unwrap it because it was so cute.
2. Leigh (her shop would be called Totaleigh Awesome)
She is just too much. It's unfair how crafty she is. OK, maybe she does work at it a little more than I do. (My scarf? Still barely a scarflette.) So, here's the gift she sent for Asa's big BIRTHday.
DO YOU LOVE IT?
Oh my gosh. And she made a butterfly one for Lydia.
(Yes, Lydia styled her own hair this day.)
I could just eat it up! I'm amazed that she actually MADE this.
3. Wendy (her shop would be called Wendy's Darlings…anyone get that?)
Wendy is one of my messageboard mamas (and real life friends, too) and refuses hasn't caved to the blogging world yet. But if she did, you would love everything she does—she's one of those money saving coupon mamas, a chef and unbelievably crafty.
Here's what she and her son made for Asa…a diaper and wipes holder.
Is that the cutest? I've been wanting a diaper/wipes container but never found one that I loved. Except this one!
And look at what she gave Lydia as a big sister present!
What, you can't tell what it is? This is the craft box I was telling you about. It was much cuter before Lydia got her hands on it. Everything was wrapped up, in little baggies and looking like candy it was so cute! She even put a ribbon around the top. What a great gift for little hands. Lydia will cut that yarn into tiny pieces for an hour!
Oh, and while we're at it, here's the puppet she made for Lydia's 2nd birthday. Seriously.
4. Candace (Oh, wait! She does have an etsy shop. It's called Twiggie.)
I just got this amazing present in the mail this week. Candace, who is beyond crafty, sent me some adorable clothes (oh, for Asa, not me) and some handmade burp cloths.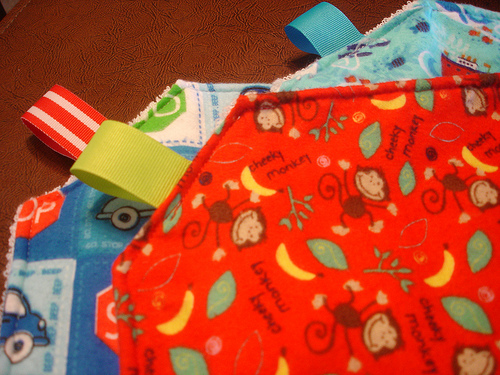 Aren't they adorable? I almost hate for Asa to spit up on them. Seriously, these are perfect because they have  terrycloth on one side. So you can actually soak liquid up! What a novel idea.
And to prove her craftiness, Candace just did a stamped onesie tutorial on her blog this week. So cute.
5. Jodi (her shop? Well, I'll steal her blog title, because it's perfect–Jodilightful!)
I know I've posted about these cute gifts before, but here's a picture of the shirts actually being worn! Are they the cutest things ever? (The kids AND the shirts, of course.)
6. Staci (her etsy shop would be Staci Staci Bo Baci…no, how 'bout Stay & See…hmmm, I'll have to think about that one…)
I've already posted this picture, too. But it's just another adorable baby shower gift—an actual cute diaper cake! She made one for Lydia's baby shower, too. Don't tell Staci but I still have some of it. I couldn't bear to unwrap it!
And if they sold real cakes on etsy, Staci would be the one to make them. Check out Staci's new cake blog, Sweets!
***
So, which one of these items would you buy now? Seriously.