I don't remember the first time I heard the Chronicles of Narnia. Mama used to read them to us on vacation. I loved riding in the car and listening to her read about Peter, Susan, Edmund and Lucy. As soon as I was old enough, I began to read them. I remember being in an after-school program (probably in the summer, actually) at a local daycare. I brought The Lion The Witch & The Wardrobe to read during our rest hour. I thought it was magical to read it at that mundane place.
As an adult, I've read them upwards of 10 times. One of those times being when Lydia was a newborn. I've listened to the Radio Theatre version (which is a MUST for everyone). And now seen both of the movies.
There's just something about Narnia. To me they are heaven. Literally. I so want to be in Narnia. To dance with the trees. To have tea with a faun. Or go on an adventure to save a prince. To talk with a star. And fight in a battle alongside leopards and giants. To talk with Aslan. And I think that part of CS Lewis' purpose was to give us a picture of what he thought heaven was/is like. (see The Last Battle for more on that…)
To say I'm a Narnian purist is an understatement. I have to remind myself that Aslan is actually fictional and not really Jesus. I try to remember that every word CS Lewis wrote isn't supposed to be exegesis-ed and turned into a sermon.
*sigh*
So, my interaction with Prince Caspian the movie is a little biased. I've already seen it twice. It's been out for 4 days. On one hand I LOVED it. I love the costumes (please, oh, please, let me be Lucy or Susan for Halloween!)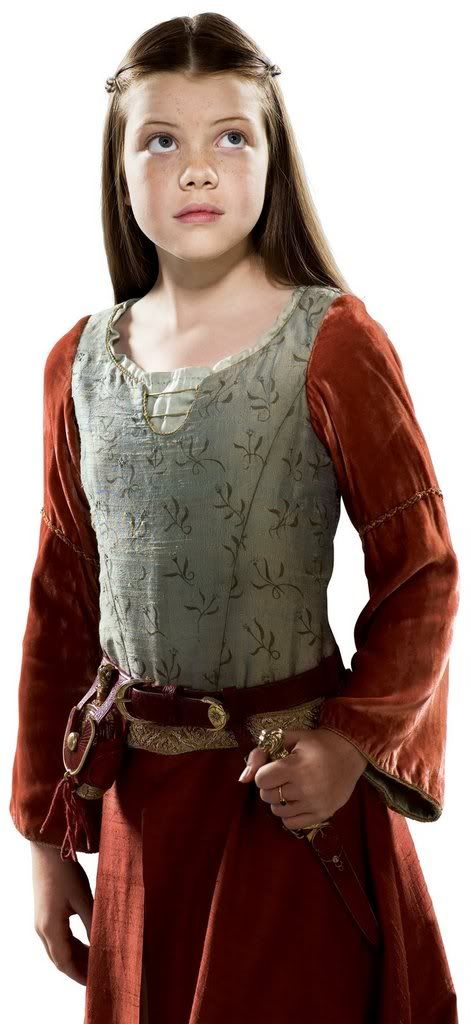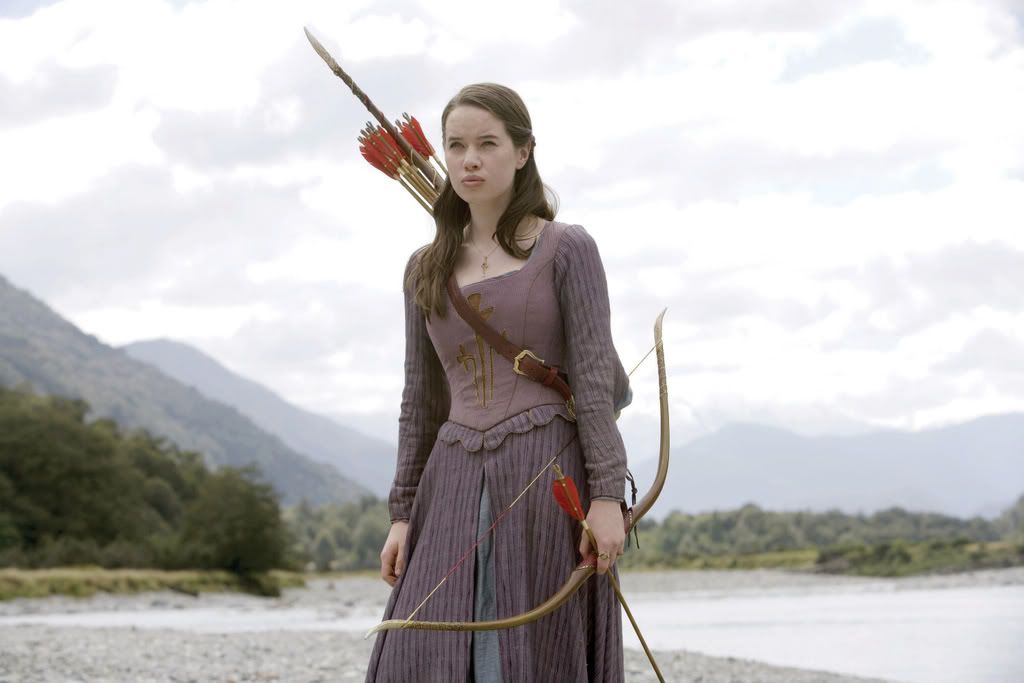 I love the creatures: fauns, minotaurs, centaurs, mice and great cats. The scenery was amazing. The actors were great. The CGI was even good.
But the story. Oh, the story. They added so much MADE UP stuff and took away some of the BEST parts! The parts that I think are the most…well, about God.
My favorite part of the whole book is when the four children (or Kings & Queens) plus Trumpkin the dwarf are walking through the woods to find Prince Caspian. They are going around in circles and can't find their way. Finally, they lay down for the night. Lucy wakes up and sees Aslan in the forest. He wants them to follow Him. He asks Lucy to wake the others…
Chapter 11: The Lion Roars

When the whole party was finally awake Lucy had to tell her story for the fourth time. The blank silence which followed it was as discouraging as anything could be. "I can't see anything," said Peter after he had stared his eyes sore. "Can you, Susan?" "No, of course I can't," snapped Susan. "Because there isn't anything to see. She's been dreaming. Do lie down and go to sleep, Lucy." "And I do hope," said Lucy in a tremulous voice, "that you will all come with me. Because-because I'll have to go with him whether anyone else does or not." "Don't talk nonsense, Lucy," said Susan. "Of course you can't go off on your own. Don't let her, Peter. She's being downright naughty." "I'll go with her if she must go," said Edmund. "She's been right before."
skip a few pages…

And so at last they got on the move. Lucy went first, biting her lip and trying not to say all the things she thought of saying to Susan. But she forgot them when she fixed her eyes on Aslan. He turned and walked at a slow pace about 30 yards ahead of them. The others had only Lucy's directions to guide them, for Aslan was not only invisible to them but silent as well. He big cat like paws made no noise on the grass…For a long way Aslan went along the top of the precipices. Then they came to a place where some little trees grew right on the edge. He turned and disappeared among them. Lucy held her breath, for it looked as if he had plunged over the cliff; but she was too busy keeping him in sight to stop and think about this. She quickened her pace and was soon among the trees herself. Looking down, she could see a steep and narrow path going slantwise down into the gorge between rocks, and Aslan descending it. He turned and looked at her with his happy eyes. Lucy clapped her hands and began to scramble down after him. From behind her she heard the voices of the others shouting, "Hi! Lucy! Look out, for goodness' sake. You're right on the edge of the gorge. Come back-" and then, a moment later, Edmund's voice saying, "No, she's right. There is a way down."Halfway down the path Edmund caught up with her. "Look!' he said in great excitement. "Look! What's that shadow crawling down in front of us?" "It's his shadow," said Lucy. "I do believe you're right, Lu," said Edmund. "I can't think how I didn't see it before. But where is he?" "With his shadow, of course. Can't you see him?"…Treading delicately, like a cat, Aslan stepped from stone to stone across the stream. In the middle he stopped, bent down to drink, and as he raised his shaggy head, dripping from the water he turned to face them again. This time Edmund saw him. "Oh, Aslan!" he cried, darting forward…

Aslan without hesitation led them to their left, father up the gorge. The whole journey was odd and dream-like–the roaring stream, the wet gray grass, the glimmering cliffs which they were approaching, and always the glorious, silently pacing Beast ahead. Everyone except Susan and the Dwarf could see him now.
skip a few pages…they've arrived and everyone is standing before Aslan…
Then, after an awful pause, the deep voice said, "Susan." Susan made no answer but the others thought she was crying. "You have listened to your fears, child," said Aslan. "Come let me breathe on you. Forget them. Are you brave again?" "A little, Aslan," said Susan.
***
The movie gave a shout-out to this scene. But it certainly didn't show the depth of this.
When Daddy was going through cancer-surgery-chemo-radiation, I was reminded of this story. Our family believed God was healing/had healed Daddy. I know other people didn't believe with us. But I felt like we were Lucy. We could see God moving in Daddy's life. We had to follow him even when others couldn't see what we did.
It's easy to listen to our fears and not listen to what God and His Word has for us. And hey–it's scary to do so. It's scary to follow Jesus sometimes. Other people might not believe, they might ridicule and it's easy to question yourself. What if you are seeing things? What if you aren't really seeing what God wants?
(this might be the start of my healing post, too…)
This is what I love about CS Lewis' books. They make me evaluate and contemplate my relationship with God. I don't look at them as children's novels, or fantasy books. They are amazing stories of faith.
And I just wish I could have seen that in Prince Caspian.
In conclusion: Go see the movie. You'll love it. But first BUY the book. Read it. You'll ADORE it.
***
speaking of books, the winners of Healing Promises are…
Kate @Just Another Day in Paradise
and my new GA bloggy friend,
BooSheep @Wooly Peaches!
Send me your snail mail and I'll get it to you asap!